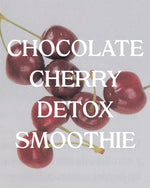 Try our favorite smoothie to cool off after a run. This low sugar banger will keep you full and is packed full of antioxidants from the cherries, chia seeds & hemp seeds. Blend it all up & tag us when you make it!
Serves 1
Ingredients
1/3 cup frozen cherries
1/3 cup frozen cauliflower
1 tsp. hemp seeds
1 tsp. ground flaxseeds
1 tsp. chia seeds
2 tsp. raw cacao powder
1 pitted date
1 tbs. almond butter
~1 cup water
Directions
Blend all ingredients & top with cacao nibs. Enjoy!