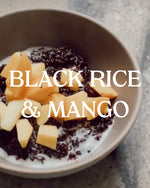 Don't sleep on black rice for breakfast…
Full of iron, Vitamin E and antioxidants, black rice is a nutritional powerhouse. It also happens to be delicious paired with mango and coconut for a sweet and salty breakfast or even a dessert. Swipe for a video on how we make it and directions to save later. Enjoy!
Ingredients:
1/2 cup black rice
2 cups water
1/2 cup + 2 tbs. full fat coconut milk from a can
1 date, pitted and diced
1/4 tsp. salt
1/2 mango, peeled and sliced
Directions:
In a medium saucepan, combine the rice, water 1/2 cup of coconut milk, the date, and the salt. Bring to a boil, then reduce to a simmer, cover and cook for 45 minutes, stirring halfway through to make sure the rice is not sticking.
Divide the rice pudding between two bowls and pour 1 tbs. of the coconut milk over each. Top with mango and enjoy.